Welcome to CardiacSurgeonGandhi.com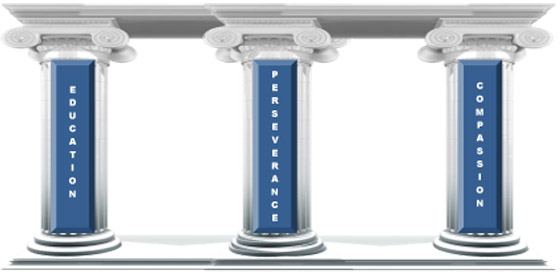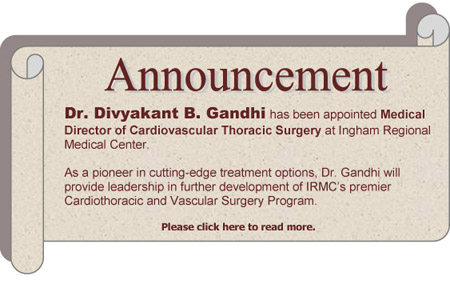 If you are one of the millions who suffer from Afib, please show your support by registering for House Resolution 295, which promotes Atrial Fibrillation awareness, diagnosis and treatment.
http://www.popvox.com/orgs/stopafib/_action/1344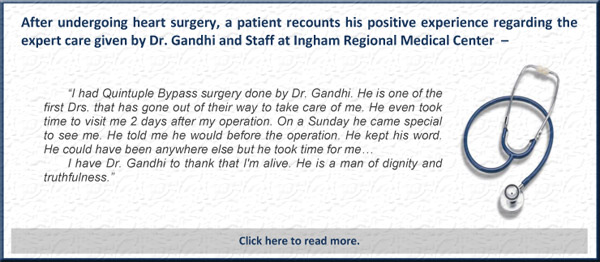 01/11/2011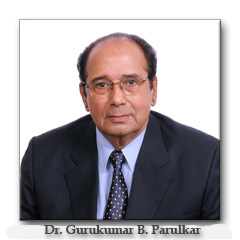 While attending the 20th World Society of Cardio Thoracic Surgeons Conference in Chennai, India in October 2010, Dr. Gandhi had both the distinct pleasure and honor of becoming reacquainted with his former Professor and internationally acclaimed Cardiovascular Surgeon, Dr. Gurukumar B. Parulkar, MBBS, MS, FACS, FAMS, FASC, FIACS, FRSM (LON). Dr. Parulkar is also the former Dean and Professor, Emeritus, Seth G. S. Medical College & K.E.M. Hospital, Mumbai, India. An excerpt of Dr. Parulkarís recent message to Dr. Gandhi appears below.

November 7, 2010

"My heartiest congratulations to you for delivering one of the most outstanding lectures we have heard on the subject of management of Atrial Fibrillation.

Starting from Anatomy, Physiology, Etiopathology, Diagnosis and current medical management, you carried us through the entire history of how the surgical management evolved. After a brief introduction of the concept of the standard surgical techniques, you brought us to the use of radiofrequency and finally to the minimally invasive Technique that you have developed with such precisionÖ"

To Read this message from Dr. Parulkar in its entirety, along with his biography, please click here.
McLaren Subsidiary News
01/05/2010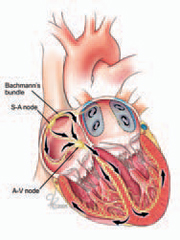 Two free health education seminars in May and September at Ingham Regional Medical Center have resulted in referrals for dozens of patients considering an innovative, minimally invasive surgical approach to atrial fibrillation (afib). This condition causes the heartís chambers to beat rapidly and out of sync.
The seminars drew more than 600 people and featured Mellanie True Hills, the founder of StopAfib.org, who underwent the procedure, and two physicians who have made IRMC a national leader in the procedure...
Click here to read the article.
By Divyakant B. Gandhi, MD FACS FRCS & John H. Ip, MD
Dr. Divyakant Gandhi and Dr. John H. Ip presented this informational lecture on the topic of, "Minimally Invasive Surgery for Atrial Fibrillation", at Ingham Regional Medical Center on August 4th, 2008.

Click here to watch the video.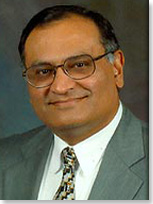 Divyakant B. Gandhi
MD, FACS, FRCS


Dr. Gandhi is a Board Certified Cardiothoracic Surgeon, having completed his General Residency at Bronx-Lebanon Hospital, New York, an affiliate of Albert Einstein College of Medicine, and his Cardiothoracic Residency at Medical College of Wisconsin in 1993.
He is also a Fellow of Royal College of Surgeons of England, as well as Edinburgh.
He was brought up in Kampala, Uganda where he completed high school, and then went on to complete his medical degree in Mumbai at Seth GS Medical College and KEM Hospital.
Dr. Gandhi has had excellent general, cardiothoracic, and vascular surgical training in India, as well as in England prior to emigrating to the United States in 1986.
This experience, along with his research in Mitral Valve physiology at Albert Einstein College of Medicine under the tutelage of Dr. Robert Frater, has helped him develop special interests in Valvular Heart Disease, in general, and Mitral Valve Repair Surgery, in particular.
He is keenly interested in and focused on total Arterial Revascularization for Coronary Artery Disease, multidisciplinary management of Lung Cancer, utilization of Robotic assistance in surgery for lung, esophageal and mediastinal conditions and minimally invasive surgical treatment for Atrial Fibrillation.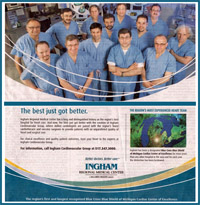 Click to view article.